Sizing and Fit
1. HOW DOES THE SIZING WORK?
You could select your size from our 
size chart
. To do so you should have your measurements. They must be taken properly (see the 
scheme
), preferably by another person or even better – by a tailor. If you are on the border of two sizes we recommend sizing up. If your chest or hips fall into different sizes, we recommend picking the larger one. Please note, that when in the water, neoprene stretches a little, so tight fit when trying it out of water is generally ok. If you have some doubts, email us at 
aloha@alooppa.com
and we will help you choose the right size or advice on a custom program.
2. HOW TO OBTAIN MY MEASUREMENTS PROPERLY
Please refer to the picture below. It is recommendable to have your measurements taken by another person, preferably by a tailor. If you take them by yourself, there is some risk to get the wrong figures and then be disappointed with the size of the delivered product.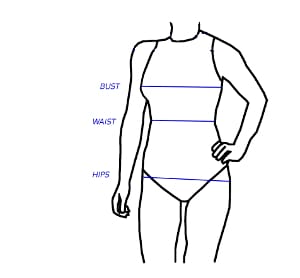 Bust: Measure the fullest part of your bust.
Waist: This is the smallest part of your natural waistline. Typically, it is 2 to 5 centimeters / 1 to 2 inches above your belly button.
Hips: This is the widest part of your hips, across the hip bone, including your bum.
Length: Measure without shoes; step close to a vertical surface and measure from the top of the head to the floor.
For the Customized Fit option, we would need several more measures, like arms length, legs length, tights. We arrange this during the production process.
If you have questions or have more specific requests, please write us at aloha@alooppa.com
ACCORDING TO THE SIZE CHART, MY BUST, WAIST AND HIPS ARE ONE SIZE, BUT MY LENGTH IS DIFFERENT SIZE. WHAT SIZE SHOULD I ORDER?
If you do not find your best fitting size in our size chart, do not hesitate to contact us at aloha@alooppa.com. Based on your measurements we will advise you about an appropriate size. If none of our sizes fits well, you could consider our Custom program.
ACCORDING TO YOUR SIZE CHART I AM A DIFFERENT SIZE ON TOP AND ON BOTTOM. HOW TO CHOOSE A SIZE?
We recommend that you go with the larger size to ensure that the fit is not too restricting. For example, if you are a size medium chest and size small hips, we recommend ordering the size medium.
If you are not sure, do not hesitate to email us at aloha@alooppa.com so we could advise you further. You can also consider our Custom program.
DO YOUR WETSUITS HAVE A SHELF BRA AND DO I NEED TO WEAR A BIKINI UNDERNEATH A SURF SUIT?
Our neoprene wetsuits do not have a shelf bra. Still, neoprene is very supportive. Therefore, wearing a bikini top or bottom is your personal decision.