Please refer to the picture below. It is recommendable to have your measurements taken by another person, preferably by a tailor. If you take them by yourself, there is some risk to get the wrong figures and then be disappointed with the size of the delivered product.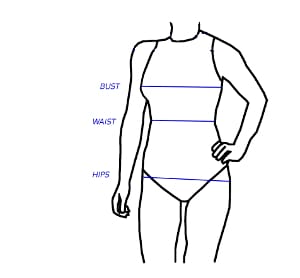 Bust: Measure the fullest part of your bust.
Waist: This is the smallest part of your natural waistline. Typically, it is 2 to 5 centimeters / 1 to 2 inches above your belly button.
Hips: This is the widest part of your hips, across the hip bone, including your bum.
Length: Measure without shoes; step close to a vertical surface and measure from the top of the head to the floor.
For the Customized Fit option, we would need several more measures, like arms length, legs length, tights. We arrange this during the production process.
If you have questions or have more specific requests, please write us at aloha@alooppa.com