"Everyone at the spot (Mauritius) knows me as the girl with the awesome orange wetsuit! With time, my wetsuit slowly became part of who I am as a kitesurfer. I love going on adventures with it! It represents my spirit – be bold and be true to yourself!"
---
Such an amazing design!! I love my custom Alooppa Wetsuit. It's probably the prettiest one I've ever had and It also fits really well! Thank you so much making me shine on the water!!
---
Amazing quality products, love the colours!!!
Professional service! Highly recommend!
Check out the section where you can design your own wetsuit 😎
Everything started with some questions about how i would like to look my wetsuit for kiteboarding…after a while they wrote me that they have what I desire: a nice, comfortable and quality wetsuit…for my water hobbies!!! Thank you for this beautiful experience and see you on the water! 🏄🏽‍♀️
---
I have been kiting for almost 10 years and it all began with the same black wetsuits we were all wearing. Kitesurfing for me is the sport which makes me the happiest, the sport in which I can really express myself and that's why I feel so grateful being able to do that wearing the best possible wetsuits for me, wearing Alooppa. First of all I really adore they way they look! It may sound a bit superficial, but in reality each one of my Alooppa's is customized for me. Lansi and Sergo evolved me in the creation process insuring that at the end I will get MY wetsuit and this really is something special you don't get anywhere else on the market! Now if we take the look away for a second, there is so much more about these wetsuits. The technology and quality behind them is at a level which can even handle me jumping, spinning around and crashing only as I can , and that is something by itself, believe me! The other really important feature they have is the comfort. Most of the time I am wearing short wetties which is the most comfortable shape for me because it gives me the freedom to move around and at the same time protects me. I really love the fact that even though the shape is allowing you a lot of freedom it just stays on me and let me enjoy my riding without having any discomforts. Alooppa is something different!
---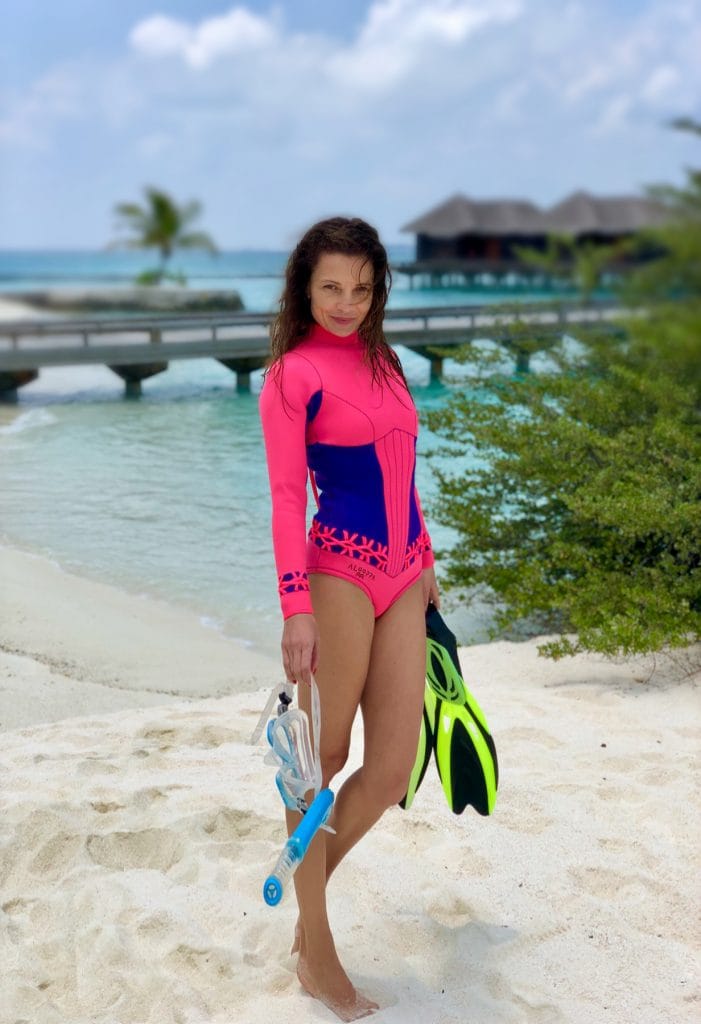 The Alooppa wetsuits are true masterpieces! High quality materials combined with exceptional design! The fabric sticks tightly to the body and at the same time allows for great freedom of movement with a sense of ease, which is essential for water sports such as kitesurfing, wakeboarding, swimming, diving, and even acrobatics. The models emphasize the femininity, and the design combinations of bright colors allow each lady to shine with her individuality.
I am infinitely pleased with the products!
I have two wetsuits: Amore Sunrise and Cassandra Flash. Comfortable and elastic they maintain well the body temperature when diving and protect against UV rays. My guarantee – with Alooppa vibrant colors, I do not stay unnoticed neither on the beach nor in the water, which can be life-saving in case of accident while surfing or diving.
I am looking forward to the new products. ❤❤❤
---
My experience with Alooppa wetsuits was great and i fell in love the moment my first wetsuit arrived. First of all, they are so kind, so careful and attentive to the details, they made me the best wetsuit to fit my body perfectly, with the colors especially preferred by me, and even more, they inscribed my name on my sleeve, which filled my soul. Whenever I wear Alooppa I feel appreciated for its particular style, cheerful colors and high quality materials that mold perfect on the body and keeps it warm. Also, there is at least one person when I walk in or out of the water who asks me where I got my wetsuit from. I am very proud that I chose Alooppa, I go nowhere without my wetsuits, which make me look stunning on the water.
---
I love my Alooppa wetsuits! Their vibrant colors, modern and feminine cuts, custom made details make me feel like Wonderwoman while riding ! Comfy & fashionable at the same time, can't wait to see what other surprises Alooppa is preparing for us
---
The quality of the material is very good. The Cassandra model has holes on the wrist and hip, which helps water flow out of the wetsuit (which saves you from having water stuck in your arms and butt thus the diaper appearance other brands have). And the colors are stunning!

---
I have been wearing Alooppa wetsuits for 2 years. I have chosen them because they are extremely original, in bright recognizable colors that bring you great mood and, most of all, they are very comfortable!!! With the Alooppa wetsuits I practice windsurfing and kitesurfing. To me, they are a super cool combination of comfort, style and quality! I highly recommend!!! 🤙🏼☀️
---
The feeling of wearing Alooppa while surfing brings me greater pleasure from my experiences on the board. I like the design … the others like it too 😀 I am noticed instantly. With Alooppa I stand out from the standard wetsuits. Furthermore, my wettie has a great range – I can wear it from the very windy mornings in the summer to the cool sunsets in the fall. Thank you Lansi and Alooppa team.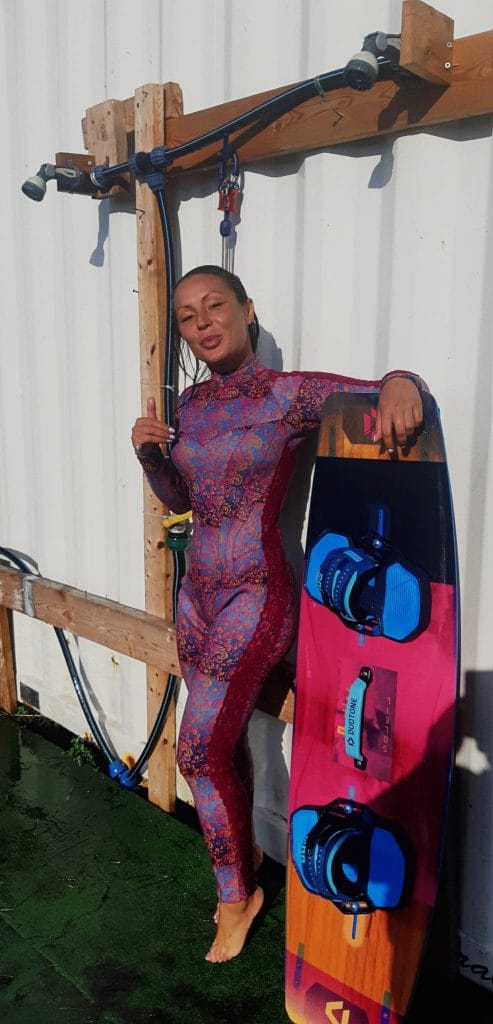 ---
My custom yellow/black edit is awesome. Comfortable and in style everywhere. I recommend for hot and windy places.
---
My Alooppa wetsuit is great!
Besides being in my favorite colors, it is extremely comfortable! It makes me look good and surfing with it is more than a pleasure.
---
Wearing my Alooppa wettie I feel comfortable and sexy. The fabric is elastic and soft and I feel pleased everywhere: in the water when I am windsurfing and kitesurfing or on the beach when I am relaxing. It's amazing how my mood changes and my tonus increases when I put it on. Thoughts about jumps and action come to my head combined with a rush of adrenaline… And after all, whatever we say, the comfortable and beautiful clothes will always be fashionable. So success Alooppa, you are doing brilliantly!!!
---